AIRCRAFT TECHNICAL GENERAL MODULE

What does a pilot need to know about the airplane? In a nutshell, a pilot should have a good idea what makes his airplane get up in the air and keep flying – basically, the airplane systems and aerodynamics. These two basic knowledge areas split into a number of specialist sections. See the end of this page for a list of links that will go into specific details for each of these sections. An aircraft consists of a number of systems, namely the aircraft structural system including control surfaces and undercarriage, avionics and instruments, the aircraft powerplant including the engine, propeller, ignition and the fuel system, and the aircraft electrical systems and vacuum systems. The flight principles area covers the fundamentals of areodynamics, i.e. basic physics of objects moving through air, airplane aerodynamic, i.e. the way airplanes in particular move through air, as well as a number of effects that are encountered when flying, such as ground effect, aerodynamics of a turn etc.

NAVIGATION MODULE

What does a private pilot need to know about airplane navigation? There are a number of airplane navigation methods, such as pilotage, dead reckoning and various airplane navigation systems that the pilot needs to know about and master. Knowing how to read an aeronautical chart and how to handle certain navigational aids such as VOR navigation are prerequisite for not getting lost in the air. This area splits into a number of specialist sections. See the end of the page for a list of these. The knowledge areas covered on this page correspond with the area that is subject of the FAA Navigation Question bank. If you want to check the knowledge you already possess in this area click on the link a few lines further down. Clicking on the link will open a new window, so that you can return to this page for further study. Hopefully you will be able to improve your score after studying these pages. Please note, that the question answer page opening when you click on the link is timed and you might find it easier to try to do this first test in one go, come back to improve your knowledge and then try the test again. There are also a number of smaller tests at the end of each section that you can take and that will help you to retain the knowledge.

METEREOLOGY MODULE

What does a private pilot need to know about aviation weather? Aviation weather is an important knowledge area for any pilot. The general principles of weather formation as well as the effects that certain weather features have on flight, in particular weather hazards to aviation - such as thunderstorms, ice or differing degrees of visibility, are part of this area. In addition, skills in reading weather charts or satelite images, as well as an introduction to the most important aviation weather forecast services form part of the pilot training. This area splits into a number of specialist sections. See the end of the page for a list of these. The knowledge areas covered on this page correspond with the area that is subject of the FAA Aeronautical Weather Question bank. If you want to check the knowledge you already possess in this area click on the link a few lines further down. Clicking on the link will open a new window, so that you can return to this page for further study. Hopefully you will be able tp improve your score after studying these pages. Please note, that the question answer page opening when you click on the link is timed and you might find it easier to try to do this first test in one go, come back to improve your knowledge and then try the test again. There are also a number of smaller tests at the end of each section that you can take and that will help you to retain the knowledge.

FLIGHT PLANNING MODULE

For flights not in the vicinity of an airport, this must include information on available current weather reports and forecasts, fuel requirements, alternatives available if the planned flight cannot be completed, and any known traffic delays of which the pilot in command has been advised by air traffic control (ATC).

HUMAN PERFOMANCE & LIMITATIONS

As a pilot, it is important to stay aware of the mental and physical standards required for the type of flying done. This page provides information on medical certification and on aeromedical factors related to flying activities.

RADIO TELEPHONY

"Radiotelephony" means transmission of sound (audio) by radio, in contrast to radiotelegraphy (transmission of telegraph signals) or video transmission.

C172/C152 MANUAL

Pilot Operating Handbook
Navigation Lesson 1
What does a private pilot need to know about airplane navigation?
There are a number of airplane navigation methods, such as pilotage, dead reckoning and various airplane navigation systems that the pilot needs to know about and master. Knowing how to read an aeronautical chart and how to handle certain navigational aids such as VOR navigation are prerequisite for not getting lost in the air.
Navigation Basics: Fundamental Concepts in Aeronautical Navigation
In order to describe the navigation basics let us first define a few terms and explain some fundamentals.
The Earth Geographic Poles For navigational purposes the shape of the earth is approximated by an ideal sphere. The axis on which the earth rotates is called the geographic Polar Axis. The two points where the axis meets the surface of the sphere are called: * the North Geographic Pole – or True North; and * the South Geographic Pole – or True South. If the earth was cut through the centre in the plane in which it rotates, then the hemisphere that accomodates the North Pole (which, in common terms, equates to the surface of the "top half" of the sphere) is referred to as the Northern Hemisphere. Consequently the "bottom half" would be the Southern Hemisphere. The circle that forms along this cutting plane and the surface of the sphere is called the equator. In real terms the diameter of the earth along its axis is smaller than along its rotational plane. The difference is only about 1/300 of the diameter.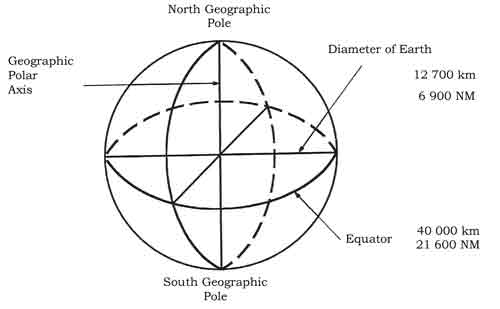 Figure: Terms and dimensions of the Earth. The earth rotates once around from West to East in 24 hours. Looking down onto the North Pole, this rotation is therefore anti-clockwise. The circle that forms at the earth's surface in any plane that passes through the centre of the earth is called a Great Circle (GC). The following things are true for Great Circles: * A Great Circle is the largest circle that can be drawn on any sphere. * The shortest distance between any two points on the surface of a sphere is the arc of a Great Circle. * An infinite number of Great Circles can be drawn on a sphere through two points that are diametrically opposed. On earth the geographic poles are two such points that take special significance in this respect. The resulting Great Circles are called Meridians of Longitude. * In contrast to the statement above only one Great Circle can be drawn between two points on the surface of a sphere that are not diametrically opposed. The Great Circle that forms in the rotational plane, i.e. in the plane perpendicular to the axis on which the earth rotates and through its centre is called the Equator. A Small Circle is any circle on the surface of a sphere that is not a Great Circle, i.e. the centre of Small Circles is not at the centre of the earth. Parallels of Latitude (other than the Equator are Small Circles.) It is more convenient for a pilot, when using a Magnetic Compass or Direction Indicator, if it is possible for him to fly a constant Track direction. This can be achieved by following a Rhumb Line track, rather than a Great Circle track. A Rhumb Line crosses all meridians of longitude at this same angle and will appear on the surface of the Earth as a curved line concave to the nearer pole. Despite the fact that it might look the shortest on a chart in some projections, a Rhumb Line track is not the shortest track from one point to the other on a sphere. (see further down in the section on projections for an illustration)